CIMA Announces Canadian Blast Line-Up for MIDEM 2014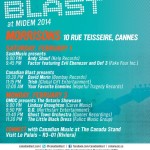 February 1-4, 2014
Cannes, France
January 10, 2014 – CIMA announces the line-up for the sixth annual Canadian Blast showcase series at MIDEM in Cannes, France. Nine Canadian artists are showcasing at Morrisons (10 rue Teisseire) in the heart of Cannes.
Canadian Blast showcases confirmed for Saturday, February 1 include Andy Shauf (Kelp Records) and FACTOR featuring Evil Ebenezer and Def 3 (Fake Four Inc.) – both presented by SaskMusic; David Morin (Bombay Records); Trish (Global Gift Entertainment) and Your Favorite Enemies (Hopeful Tragedy Records.)
On Monday, February 3, OMDC presents The Ontario Showcase featuring Lindsay Broughton (Curve Music); D.O. (Northstarr Entertainment); Ghost Town Orchestra(Gunner Recordings) and The Little Black Dress (Fullcc Music Group – Full Capacity Concerts)
For more information or to register with the Canada Stand, please contact Kathy Hahn, Tradeshow Coordinator, CIMA at 416-485-3152, Ext 22 or tradeshows@cimamusic.ca.
Follow all new developments at canadianblast.com/midem2014.
On Twitter: @CanadianBlast
On Facebook: https://www.facebook.com/canadianblast