Curve Music to Reissue Scott B. Sympathy Indie Classic Recordings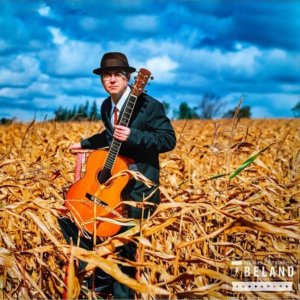 The late 1980s and early '90s on the Queen Street West scene was a golden age in Toronto's music history. Free-spirited and imaginative songwriters and musicians were creating work on their own terms, regardless of commercial imperatives.
At the heart of this vibrant musical community was Scott B. Sympathy, a group built around the formidable songwriting chops of leader Scott B. (Scott Bradshaw), and comprising some of the most original and talented young players in the city.
The first two Scott B. Sympathy albums, 1990's Neil Yonge Street and 1992's Drinking with The Poet, captured this compelling combo in full flight. The records garnered critical acclaim and substantial campus radio airplay upon their release, while the passage of time has added a burnished glow to their major achievements.
Three decades on, these records sound just as fresh and vital today. That will be reaffirmed now with the very welcome reissue of both albums, via Toronto independent label Curve Music.  Both records have been freshly mastered by Joao Carvalho, with assistance from Walter Sobczak, the producer of both albums.
Curve Music head Brian Hetherman is thrilled at the opportunity to give the two seminal records new exposure. "To me, Scott B Sympathy's Neil Yonge Street is the birth of Americana /Roots music in Canada, the same way that Uncle Tupelo was in the U.S.," he declares. "Before Scott B. Sympathy there was lots of incredible folk music in Canada, but they ushered in Americana/ roots here."
After moving to Toronto from Brantford, Ontario, at age 20, Scott Bradshaw began playing the local clubs, both solo (as Scott B.) and with a group he dubbed Scott B. Sympathy. Their late '80s shows quickly attracted an enthusiastic following, and local indie label Smokeshow Records signed the band.
Armed with a collection of road-tested Bradshaw songs, Scott B. Sympathy headed into top local studio Wellesley Sound with producer Sobczak to record Neil Yonge Street.
Accompanying Bradshaw in the studio for Neil Yonge Street were guitarist/backing vocalist Ian Blurton, slide guitarist/backing vocalist Gord Cumming, bassist John Borra, and drummer Terry Carter, all Toronto players already making a name for themselves.
Now a revered veteran of Canadian indie rock as a musician and producer, Blurton then headed Change of Heart (a band Borra would later join), and he and Borra had played together in post-punk band A Neon Rome, while Cumming fronted The Lawn.
The band's sound was a compelling and original hybrid style that incorporated folk, rock 'n roll, country and punk elements. The clever pun of the album title, Neil Yonge Street (coined by William New of Groovy Religion), alludes to this by referencing one of Bradshaw's musical heroes.
On both these albums, Scott B.'s poetic songwriting and ruggedly authentic vocals provided a firm foundation upon which the band constructed a thrilling guitar-based sound. Many of the tracks feature a fluctuating combination of Bradshaw's acoustic, Cumming's shimmeringly atmospheric slide, and Blurton's potent and visceral electric guitar playing. Add in the tight rhythm section of Borra and Carter and backing vocals from Cumming and Blurton, and you have a broad musical canvas.
Looking back on the sound of those records, John Borra notes that "this was definitely before the whole Americana thing became a genre, but I wouldn't say it was out of place in the post-punk '80s. Back then it seemed like bands were doing anything and everything as long as it was artistically minded and didn't have overt commercial aspirations. There weren't a lot people on the Toronto scene playing acoustic guitars but there were some, like Handsome Ned and Blue Rodeo, so Scott wasn't alone in that department."
Upon its release in September 1990, Neil Yonge Street quickly met with critical approval. "Repeated listening reveals the rough, haunting brilliance of this debut album," wrote The Toronto Star, while NOW noted that "Scott Bradshaw is capable of colouring his songs with totally descriptive narratives."
Neil Yonge Street also soon became a favourite on campus and community radio stations across Canada. It remained on the NCRA National Chart (for campus radio) for four months, peaking at No. 5 in Nov. 1990. Tracks received some commercial airplay, CBC radio offered support on a variety of its programs, and videos received solid rotation on MuchMusic. Scott recalls that "a bunch of the songs on Poet were written after Neil Yonge Street, though some came from before. That is why the two records seem connected to me. They fit together. The sound is a touch booted up on the second record. There's a bit more production, and everyone's playing is a little better."
Upon its release, Drinking With The Poet scored strong national campus airplay, significant MuchMusic and CBC exposure, and glowing reviews, including a 4-star rating in NOW and positive notices in The Globe and Mail and Toronto Star.
DWTP leads off with the title track, a full-blooded rocker that shows the band firing on all cylinders and features both a fluent mandolin solo and searing electric lines from Ian Blurton.
Powerful ballads "Watching You," "Memory Fades," and "Coming Home To You" showcase Scott's convincingly passionate vocals, while "Hiatus" is one of many tunes demonstrating his clever wordsmithery ("one day I thought I had a vision, but it turned out I was just seeing things").
A revamped lineup of Scott B. Sympathy went on to release two more albums, 1996's Long Way Down and 1999's Unfinished Sympathy, followed by Bradshaw's 2006 solo album Home Movies. He later reunited with Gord Cumming as the band Massey-Harris, and their 2020 self-titled EP has received a positive response.
News of the reissues of the timeless Neil Yonge Street and Drinking With The Poet caught Scott by surprise, but he declares "I'm very glad and honoured by it. This is part of my legacy. I always did have a sense these songs would age well."
This is a legacy well worth exploring. You won't regret it.