Lindsay Broughton Soundcheck Interview
Lindsay Broughton comes from the small town of Brooklin, Ontario and is one of Curve Music's top artists. Nominated for female artist of the year in 2014, Lindsay has played major festivals all over the world and is heading into 2015 with a new record, a new single and a new video on the way.
We'd like to start out by saying thanks to Lindsay's label Curve Music for setting up this interview, all images are from the official Lindsay Broughton website.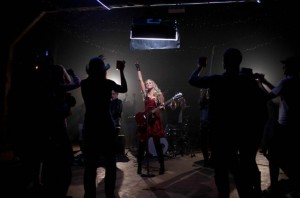 Sound Check: Hi Lindsay, how are you?
Lindsay: I'm good. I've got the weekend off so I'm just relaxing and enjoying it before the craziness starts again.
Sound Check: Can you tell us about the field trip to Nashville that started all of this?
Lindsay: It was my first trip out of the country to start with. It was this exciting thing for me in the first place, but to be going to the "mecca", as everybody calls it, of country music, it was even more exciting for me. I'd joined a songwriting club when I was in high school and I'd written a couple songs and I thought I could really do something with my skills. And I just need to hone in on them, so they took me to Nashville to show me the ropes and introduce me to a few people. We drove into Nashville and they opened a lot of doors for me.
I sat down in publishing houses and spoke to publishers. I played a bunch of my songs that I'd written and they critiqued me and gave me some pointers, things I needed to work on. At one particular house, they absolutely loved my music but of course at the time I was 16. I ended up getting a publishing offer to write songs for a living, down in Nashville but being 16 my parents were not ok with that.
I went home and took it as an experience. I thought to myself, clearly there's something here. It was a great experience in Nashville, because everyone you meet is so talented. There's no shortage of talent, songwriters, studio musicians, backup singers, engineers, everyone. It's a humbling experience. You see, as an artist, how hard you have to work to make it.