The Dead South Recognized For Best Saskatchewan Album in 2016
SaskMusic asked and you answered: The Best Saskatchewan Album of 2016 is Illusion&Doubt by The Dead South. 
Get it on iTunes or Google Play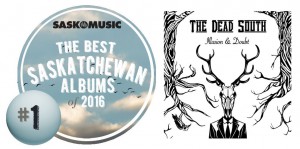 Released late November last year, the album is a refreshing take on bluegrass and folk, while also incorporating elements of rock, punk and classical music to the tracks.The lead single "Boots", opens the album with an up-tempo beat and features lyrics about free-spirited love. After a short quiet prelude, the banjo and guitar pick-up will have listeners on their feet dancing. The spirited song showcases The Dead South's talent and knack for encompassing humour into their music. Released in advance in Europe, Illusion&Doubt rose in the Denmark music charts to break the Top 10.